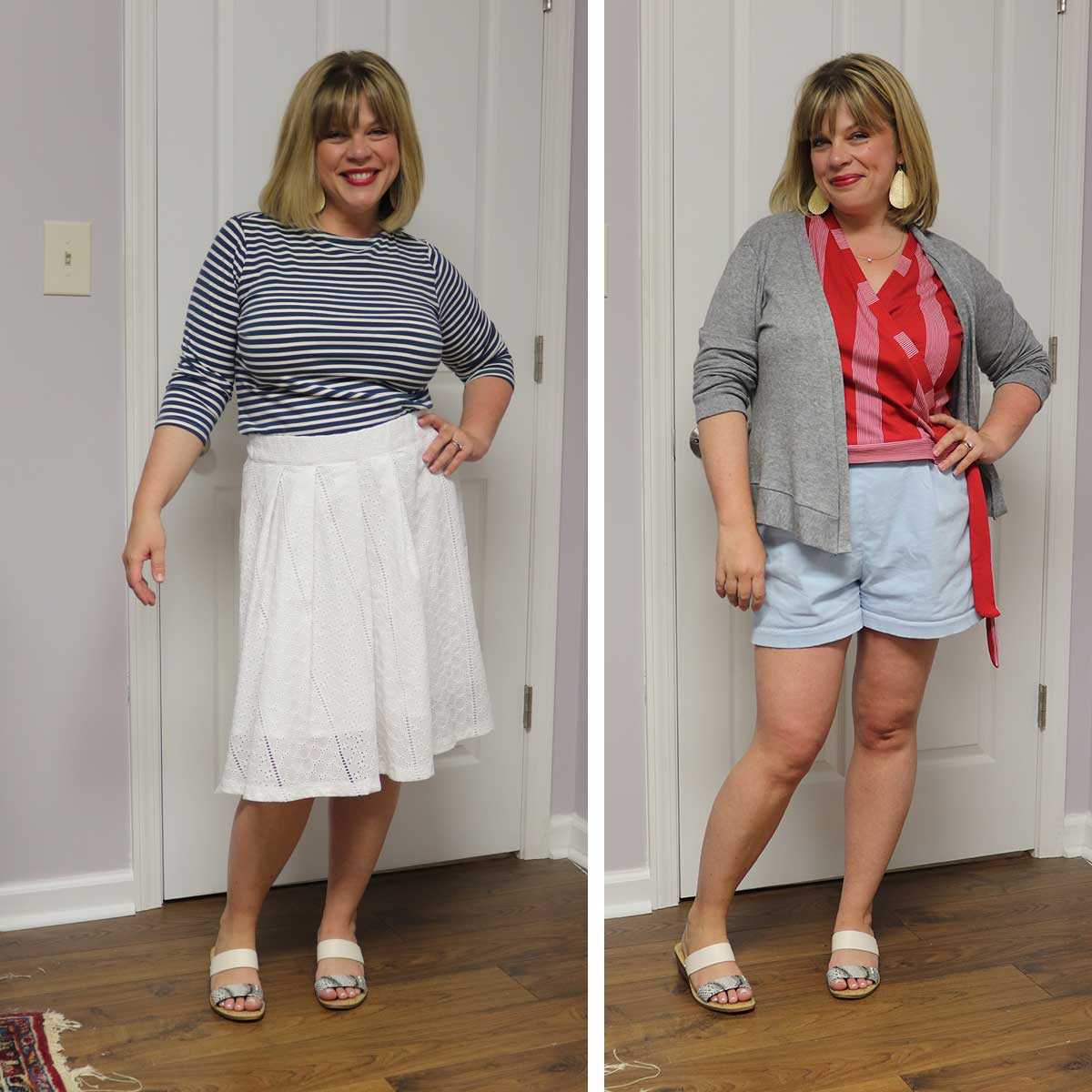 If you read my e-book "Sewing your dream wardrobe", you know that I'm all about planning and organizing your sewing. I am a big fan of sewing in collections in order to create a cohesive wardrobe and not spend time -and money- making clothes that you don't need or that don't fit in your existing wardrobe.
A few months ago, one of my favorite sewing vloggers and friend, Whitney, started following a similar approach in planning her sewing. She started working in modules, a method that I find very clever and a great idea to streamline your sewing and create a handmade wardrobe you will love. I have been following her progress on her YouTube channel and really admire her passion and productivity. So, you can imagine how exciting was for me when Whitney told me that she was going to create a module using only AKpatterns!
Her philosophy behind that is that when you use patterns from the same company while working on a module, you can save time because you pretty much make the same changes/alterations to all the patterns, based on the fact that most companies draft their designs using the same block.
In addition to that, Whitney wanted to try out some of the hacks that I had posted for my patterns, as well as try a couple of hacks that she thought of. And that's how her module was born!
The day her reveal video went live, I watched it almost immediately. I absolutely loved all her makes and how her module turned out! I was pleasantly surprised by the versatility of the pieces that she created, and she inspired me to think outside the box with her combinations. I must admit that I wouldn't have thought of combining some of the pieces together, but she really made everything work so well!
Want to have a look at her makes?
Whitney made the wide-leg version of the Abi, using a knit fabric.
An eyelet fabric is perfect for a summer skirt and this white piece is so versatile for summer. She lined the skirt and kept the lining a bit shorter so you can get a peek of skin at the hem.
Whitney opted for the shorter version of the Nikki, which works equally well belted or open.
This hack for the Samantha dress has a full tutorial on my blog. It is such an easy modification of the original Samantha dress and looks amazing, while being very comfortable to wear!
Another hack that Whitney came up with was turning the Lisa dress into a peplum top. Inspired by her, I prepared a tutorial for it, available here. I really like how the top can work both loose and tucked in and the belt is a lovely detail as well.
Whitney had the idea to chop off the Rachel trousers and turn them into a pair of shorts. I adore this version and really need to make one myself!
Last but not least, she made a striped jersey top using my Sheona top pattern and the boatneck hack tutorial I posted here.
Overall, I think Whitney's summer module is a perfect demonstration of how you can use a pattern in multiple ways and create stylish pieces that work very well with each other. She is such an inspiration and I do urge you to subscribe to her YouTube channel because she posts amazing content every week.
Thank you for inspiring us, Whitney!
I hope you enjoyed seeing her makes! You can watch her video to find out more about her process and each make below.
Until the next time, happy sewing,
Athina